HomeGuard is an innovative Precision Termite Management System.
HomeGuard is classified as a chemical termite barrier in a non-soil matrix combining the attributes of both chemical and physical Termite Management Systems while meeting the 'Performance Appraisal' requirements of the Building Code of Australia.
HomeGuard is the first and only chemical barrier in a non-soil matrix product ever registered by the Australian Pesticides and Veterinary Medicines Authority (APVMA).
HomeGuard is the first and only single sheet termite moisture barrier containing an Australian registered termiticide in a polymer matrix.
HomeGuard is a single sheet with the active ingredient evenly distributed throughout the matrix.
HomeGuard acts as a waterproof membrane, a DPC and an effective Termite Management tool all in one.
HomeGuard Stops, Kills and Repels termites.
Components
The HomeGuard PTM system consists of the following components: HomeGuard TMB, HomeGuard DPC HomeGuard Blue, HomeGuard GT and HomeGuard Collars.
| | | | | |
| --- | --- | --- | --- | --- |
| | | | | |
| HomeGuard TMB | HomeGuard DPC | HomeGuard Blue | HomeGuard GT | HomeGuard Collars |
---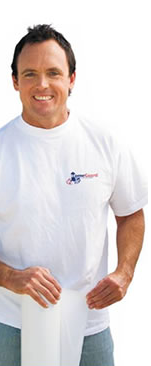 HomeGuard is a patented termite managementsystem using a termiticide in combination with aphysical barrier. HomeGuard is the first of its kind and the only physical termite barrier ever registered by the APVMA.
HomeGuard is available in two standard sizes. Firstly in convenient 2m wide rolls that expand to a massive 4m X 50m total area. This lightweight (0.2mm) sheet is easy to carry, transport and work with. A 1m X 50m DPC roll is also available, specifically designed to be cut to size, as a 0.5mm perimeter cavity product, which also meets the Australian Standard for a dampproof course.HomeGuard contains a UV stabiliser and won'tdelaminate. You won't cut your hands installing it like you can with some metal physical barrier systems and being non-scheduled and non-sensitising, it's much safer for you and for your customers. HomeGuard sheets are supplied in roll-form and being white in colour, readily show chalk linemarkings, plus they reflect radiant heat, making them cooler to work around. In addition, HomeGuard collars protect the service penetrations and are an integral part of this uniquetermite management system.
---
HomeGuard TMB

HomeGuard TMB complies with all requirements of Australian Standard AS2870 so can also double as a 0.2mm high impact moisture barrier.

 

 

---

MSDS

Label

HomeGuard DPC

HomeGuard DPC complies with all requirements of Australian Standards AS2870 as an approved 0.5mm Damp Proof Course, so no additional perimeter cavity needs to be installed.

 

 

---

MSDS

Label

HomeGuard Blue

HomeGuard Blue is a cost effective perimeter barrier. It does not comply with AS2870 so requires a seperate DPC to be installed.

 

 

---

MSDS

Label

HomeGuard GT

HomeGuard GT is a pro-active, granulated termite barrier. it can be used for a full permieter and is also ideal to use in corrective situations.

 

 

---

MSDS

Label

HomeGuard Collars

HomeGuard Collars the first ever impregnated service penetration collars that simply lock into the slab, even if installed incorrectly.

The Collars are a unique patented design making them the only rigid penetration collar on the market that will Kill and Repel Termites as well as physically stop their entry into the building.

The collars come in various sizes to fit most penetrations in a home and all comply with the requirements of Australian Standard AS2870.

MSDS

 
Importantly
HomeGuard does not leech or diffuse, effectively locking in the active ingredient to enhance efficacy, longevity while remaining environmentally friendly and safe.

HomeGuard Kills, Repels and Physically restricts termites trying to enter the Home.

HomeGuard is sealed in permanently into your home so it can not be disturbed.

The active ingredient is distributed evenly throughout the HomeGuard giving you a full and continuous termite barrier.
Trials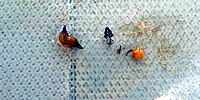 1. Dead termite shells (Image Left) on a piece of HomeGuard. Proving it really does kill.
2. One of the HomeGuard trial sites (Image Middle) - shows HomeGuard was put under high pressure and still worked.
3. Trial Plots in the Northern Territory (Image Right) - the one on the right is HomeGuard and the one on the left is normal plastic. Proving HomeGuard repels Termites.
HomeGuard has been extensively trialled before bring to the market place to make sure you are getting the best quality product.
It has also been registered by the APVMA (the first ever) and also holds CSIRO Building approval and is suitable for use in all states of Australia.
Australian trials on Biflex (HomeGuard in a liquid form) have been ongoing for 16 years.