Product Safety Cards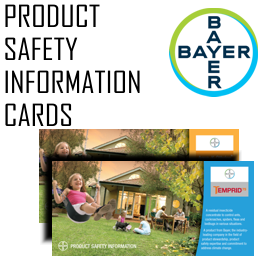 Are you using Bayer products ? Remember to pick up your free DL Product Safety Information Cards to give out to your customers from Garrards.
Product Safety Cards are available for the following products:
Aqua K
Cislin 25
Maxforce Gold
Tempo
Temprid
More to come soon.
Stop by your local Garrards Branch to collect.
Termidor HE
Termidor HE is now available from Garrards.

Take your business to a whole new level of efficiency. Watch the video here.

More efficient application – Termidor HE reduces the need for much of the disruption, digging and drilling typically required with a standard termiticide application. With state of the art advanced polymer technology, it dramatically improves the transport of Termidor HE's active ingredient into the soil on application.

Don't forget about the other great Termidor products which combined can be the most powerful Termite elimination solutions today.
Termidor Foam, Termidor Liquid and Termidor Dry.