Listing to advertise your equipment for sale. To arrange a listing, please send an E-mail to Craig at "craig @ garrards.com.au" (without the spaces)
This service is free of charge to Garrards customers - charges may apply to those who do not deal with Garrards.  Please E-mail your required text either typed directly into the E-mail body, or in a Word or Text document.  Please include any logos or pictures you may wish to accompany your ad.
Please note that Adobe Acrobat files are very difficult to work with and as such are not preferred.
---
Number Plate for Sale - Melbourne Area
Listed 28/04/2019
 PESTY 1
 Here's an offer up for grabs, For all you Pesties that know, You Are No. 1
Giving it your all, The Best you can be, Better than the rest, The number 1 Pesty…
PESTY 1,  NUMBER PLATES UP FOR GRABS, If you think you are worthy to be the
Number 1 Tech, then these plates are for you.
$1,200 ONO
Contact: Shane on 
This email address is being protected from spambots. You need JavaScript enabled to view it.
---
---
IGEBA TF35 FOGGER - Sydney Area
Listed 09/04/2019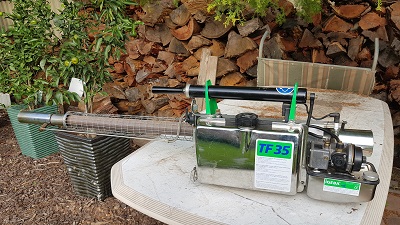 Used only a few times in 10 years we have owned. Works well.
$1,000 ono. Contact Sue (Sydney) 0434 533 568
---
Flir i7 For Sale - Brisbane Northside
Listed 1/04/2019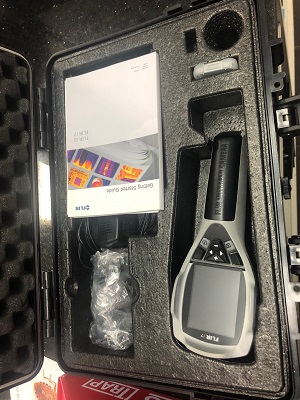 Flir I7 hardly used $1200 contact Rob 0414555589
---
 Termatrac for Sale - Toowoomba QLD
Listed 05/02/2019
Just been recalibrated (yearly service), New box, battery charger and batteries.
Comes with the Ap on a android phone.
The currently cost $4790 on the website,is as good as new.
$2500
TALLEBUDGERA QLD
Ph: Shane 0414330414
This email address is being protected from spambots. You need JavaScript enabled to view it.
---
Termatrac T3i for sale - Yarraman QLD
Listed 13/12/2018
2 years old, Device requires calibration and is located in Toowoomba, Qld. I'm able to personally deliver the item to anywhere in the South East Qld area for an extra $70. Or can send via mail in Australia. Asking price $1,750 ONO. I paid $3995 for the item 2 years ago. Comes with a carry case,batteries and charger.
Call Reece on 0481284208 if interested.
---
Flir Camera For Sale
Listed 12/12/2018
FLIR E40 BX near new condition.
$2,750 ONO
 Tim Donovan 0411961905
---
---
---
Pest control & Termite Rig for Sale - NSW Area
Listed 14/09/2018
150ltr & 50ltr tank (50ltr never had chems in it)
50mtr 19mm hose and reel (few month old)
Firefighter pump Honda GX160 chief (near new) add on brass attachments, reducers and ball valves etc @$400 worth on it, new couple months old,
Honda nova pump (seviced recently, haven't ran any chemicals through it since November)
100mtr 10mm hose and reel with quick connector
2 brackets (1 brand new) all ready to start work on termites and general pest control
$4,400 or near offer
NOTE: selling as package won't seperate
Reasonable offers will be considered, no tyre kickers not holding

Contact: 0412276088
---
2001 Toyota Hi Lux - Daisy Hill QLD
Listed 14/09/2018
great condition ,air conditioning , power steering, registration, manual,177000km, used as a spare for business, so not used a great deal. Tank, pump, hoses, toolboxes. All you need for start up in Pest Control .
$7000
Contact Lyle
Ph.0412925039
---
---
4 x 12v Trolley Sprayers - Sunshine Coast Area
Listed 22/08/2018 
In good working condition, $350 ONO per sprayer
 please phone Rob on 0416250020
---
Mazda BT50 2013 - S/E of Melbourne
Listed 18/07/2018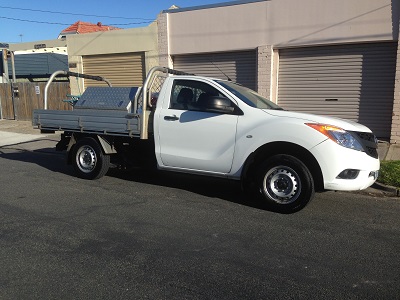 White, manual, 2wd, Diesel, A.C.  Elec windows, 169,000 k.
Full set up for Pest Control,
Honda pump set up, Hose and reel (100m),
2 Tanks, 200 and 100 liters,
2 Boxes, lockable.
12 months rego,  RWC,
$16,500.00. complete, or $14,000.00. without the equipment on the tray,
Contact Michael,  0488 707177
---
Pest Equipment for Sale - South Kalgoorlie Area
Listed 10/07/2018

Hurricane Mister - $95
Great for insect control in greenhouses, mosquito and fly control in areas where they are a problem.
Light Scope in Alloy Case - $100
Suitable for examining cavity walls, hard to see parts in engines and detail inspection work. Good Condition.
50 metre x 300 millimetre Termite/Damp Proof Sheeting - $200
Container Anti Termite Beads - $100
2 x Electric Insecticide Dusters @ $80 Each - $160
Miscellaneous Termite Control Fittings - $20 each
Miscellaneous Pest Spray Fittings - $10 each
Powder Bellows Insecticide - $20
Ramset Trakmaster Gas Powered Pulsar Tool Plus Fittings - $495 
Great for fixing steel frames to concrete slabs.
Near New Safety Harness - $120
200 Litre Skid Mounted Fibreglass Tank - $1,450
50 metre Hose Reel and Hose. Honda Motor Fitted with Honda Pump.
50 metre Hose on Reel - $200
Tandem Trailer with Water Tank and Pump - $3,590
Includes:
•       Tandem Trailer
•       2 Spare Tyres
•       Wire Mesh Cage
•       1000 litre Pod
•       2 Hose Reels
•       2 Hoses
•       Fire Fighting Pump and Motor
Suitable for Weed Spraying or Fire Fighting.
Toodyay Location.
600 litre Green Fibreglass Tank - $275
Light Green and Cylinder Shaped. Suitable for Non-Portable Water, Drilling Fluids, etc.
600 litre Fibreglass Tank - $275
Contact 0405450124 for further details and photos.
---
---
2015 Mazda BT50 2 Door Single Cab Chassis with Equipment - Brisbane Area
Listed 28/03/2018

83,643Kms 
6Speed Manual Diesel
16" Mag Wheels
Tray and Drop Side
Titanium Grey
Driver Airbag and Passenger Airbag
A/C, Bluetooth, Electric Windows, Cruise Control, Central Locking
9 Months Registration
Drip Tray
Honda Motor with Nova Pump
200 Lt Tank
Ladder Rack
Retractable Water Hose
3 Metal Storage Boxes
Underneath Storage (behind rear wheel)
50M Chemical Hose (12mm) on Reel
5L Rega Hand-spray
For Sale $21,000.00 ONO
Call Chris 0438 892 088
---
---
Fluke TiXB Thermal Camera for Sale
Listed 06/02/2018
Very good condition - Top of the range camera and perfect for the pest industry (Timber Pest Inspections)
$2,000 ONO
Contact Mike - 0410 201 668
---
 Mitsubishi Triton MQGLX 4 x 2 Petrol SC-CC for sale - $17,999 ono - Gold Coast Area
Listed 4/1/2018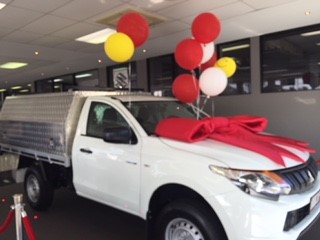 2016 model – 60000 km  - Manual
The truck is in excellent condition with a metal canopy at the back. 
Full service history available. 
Note: photo is when it was purchased.
Contact 0414 238 299
---
---
For Sale - 2005 Mitsubishi Triton - WA Area
Listed 28/08/2017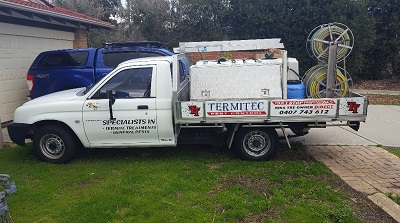 1 Tonne Tray back Ute
Dual Fuel
No Oil Leaks Regularly Serviced
180k/ km
Includes:
2 x 200lt Chemical Tanks
2 Large Lockable Toolboxes
2 x Hose reels
1 x 5.5 H/p Davies Pump
Ladder Rack.
$6000 the lot

Contact:
Wayne Carrigg 0407 743 612 
---
For Sale Ramset Nail Gun - Port Fairy Area
Listed 25/07/2017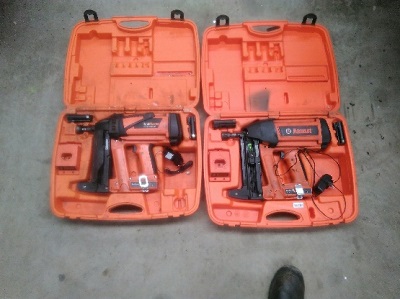 $500/ea
0409172460
---
---
Flir i7 Hardly Used - Gold Coast Area
Listed 27/06/2017
Hardly used, $1,200 ONO
Contact: 0457897979
---
Full Pest Control Rig For Sale - Brisbane Area
Listed 31/05/2017
Full pest control rig with custom boxes on both sides with enough room for drills, 20 litre drums and heaps of other gear. 600L fibreglass tank in 400L and 200L split form. 2 hose reels and ladder rack. AR30 pump on Honda motor. Can include some gear as moving interstate. Must sell. $5000 ONO. All reasonable offers considered.
Please contact Doug on 0409 460 340
---