Listing to advertise your equipment for sale. To arrange a listing, please send an E-mail to Craig at "craig @ garrards.com.au" (without the spaces)
This service is free of charge to Garrards customers - charges may apply to those who do not deal with Garrards.  Please E-mail your required text either typed directly into the E-mail body, or in a Word or Text document.  Please include any logos or pictures you may wish to accompany your ad.
Please note that Adobe Acrobat files are very difficult to work with and as such are not preferred.
---
2007 Toyota Hilux Work Mate - Sydney Area
Listed 10/09/2019
For Sale $12,500 neg.
Toyota Hilux Work Mate 2007 Model 130,915KM (Reg 5-9-20)
Air Conditioning - Power Steering - Air Bags - Tinted windows - Led headlights & Fog lights
Brand New Tyres - Log Books - Fully Serviced.
Kenwood System - (Compatible with iPod or Android) with Reverse Camera Valued at $1500
Spray Rig - Honda Pump GX 160 - 200 Lt. Tank - 200m Hose and Reel – Trolley sprayer 25LT – Rega + Fittings + wands - slab injector etc.
Ladder Rack + Ladders 2 Stage Extendable (22 Ft) & 8 Ft Step / Extendable Gorilla.
Cheka Plate Tool Boxes x 2
Ladders Racks.
Regrettable Sale
Call Brian 0451049187
Northern Beaches Sydney Or Email This email address is being protected from spambots. You need JavaScript enabled to view it.
---
800L Tank For Sale - Brisbane Area
Listed 27/08/2019
800 litre tank with 12 volt pump 
$500 ONO
Contact Kev on 0413741877
---
2013 Holden Colorado Ute - Perth
 Listed 06/08/2019

Includes:
2x 200 litre tanks
Honda motor
2 hose reels 1x 100 metre and 1x 50 metre in near brand new condition
Slide out drawers and Ute toolboxes
2 solo rechargeable back packs
The setup is great and very reliable only selling due to other work commitments and don't have time to use it. Willing to separate spray gear from the Ute for the right price. There are more items available that will be thrown in for the right buyer. Feel free to contact me on 0439474074. Located in Perth
---
Tramex Moisture Encounter Plus - Toowoomba QLD
Listed 24/06/2019
2 years old, rarely used because a Termatrac was purchased. This item is in excellent condition and comes with a case. The rear sensors are in great condition. Selling because I have no more use for it. Can send item to you wherever you are in Australia upon payment plus the postage fee. Or local pickup in Toowoomba Qld. $400.
Contact Reece. 0458 136 391
---
Number Plate for Sale - Melbourne Area
Listed 28/04/2019
PESTY1 Number plates for sale, Green and White on Slim Line plates $800 ono
Please email Shane at This email address is being protected from spambots. You need JavaScript enabled to view it.
---
---
IGEBA TF35 FOGGER - Sydney Area
Listed 09/04/2019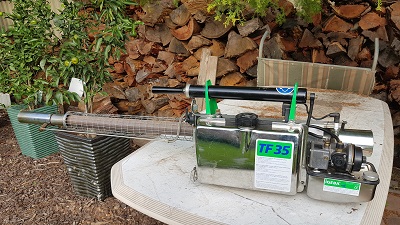 Used only a few times in 10 years we have owned. Works well.
$1,000 ono. Contact Sue (Sydney) 0434 533 568
---
Flir i7 For Sale - Brisbane Northside
Listed 1/04/2019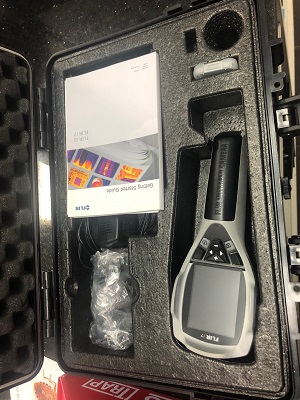 Flir I7 hardly used $1200 contact Rob 0414555589
---