Listing to advertise your equipment for sale. To arrange a listing, please send an E-mail to Craig at "craig @ garrards.com.au" (without the spaces)
This service is free of charge to Garrards customers - charges may apply to those who do not deal with Garrards.  Please E-mail your required text either typed directly into the E-mail body, or in a Word or Text document.  Please include any logos or pictures you may wish to accompany your ad.
Please note that Adobe Acrobat files are very difficult to work with and as such are not preferred.  
---
Thermal Imaging Camera For Sale - Gold Coast
Listed 02/06/2020
Fluke Thermal Imager for sale - $4000.
This imager is the military grade version that Fluke was selling pre-2010.
It is the IR Insight XS in excellent condition.
At the time purchased it required USA State Department approval for any purchaser.
If you are interested please call Steve on 0412 142 340
---
Dusting Machine For Sale - Sunshine Coast
Listed 10/03/2020
Unknown brand dusting machine.
$300 pick up Woombye Sunshine Coast or plus postage.
If you have any questions please contact Peter on 0456 464 986
---
Spray Rig For Sale - Brisbane
Listed 13/2/2020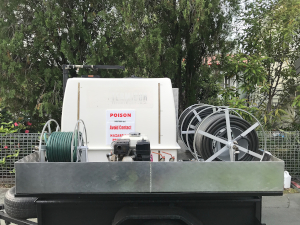 $4200 ono
Fibreglass Split Tank 300L/100L Tank with New Poison Sign
Honda GX 160 Motor with Nova Pump
Large Galvanised Hose Reel with 100m 12mm Hose
Large Galvanised Hose Reel with 68m 12mm Hose
Small Galvanised Hose Reel with 15m Garden Hose
Bracket with Shutoff Ball Valves for Filling Tanks
Each Chemical Hose has a Shutoff Ball Valve
1200mm X 500mm Toolbox
Aluminium Bunded Tray 200mm High which sits on Duragal Steel Frame with Lifting Points so it can be removed from vehicle. It has marine bungs fitted so it can drain when it's raining. When chemical is in the tank and pump is operational the marine bungs are put in to catch any spills in case of a leak etc.
Dimensions are 1830mm wide X 1750mm long
This setup isn't new. It is used but well looked after. The Honda Motor has had a full service (oils, plugs, fuel, starter cord etc) and will give many years of trouble free service.
All hose reels have been cleaned up and new o-rings installed in swivels and greased ready for action.
New suction hoses and bypass hoses with new hose clamps.
New shutoff ball valves for chemical hoses.
New inline filter on suction hose before pump.
New zinc plated bolts for all hose reels, tank and toolbox.
I have ordered a new muffler for the motor as the original one is a bit rusted.
With a little bit more cash you could easily have a rolling chassis made and turn this into a trailer for the perfect termite rig. It would also be perfect for someone just starting out but doesn't have the cash to lay out on a new setup.
I made this setup for my last ute which had a steel tray which had a lip on the outside of the tray hence the reason for the 65mm X 35mm frame under the centre.
The whole setup can be lifted off with a block and tackle or a forklift. Unit is currently sitting on my 6x4 trailer which is not included in the sale.
If you have any questions or would like to inspect the unit you can message or call me directly on 0438627033
---
200 Litre Power Sprayer with Drip Tray - South Burnett QLD
Listed 19/11/2019
 Only 3 years old and in very good condition. 80 metres of hose with a large coupling attached. The tray dimensions are 1180x1300mm. Honda Engine. I could arrange delivery anywhere in South East Qld. Or local pickup in South Burnett Qld. $1,700 ONO.
Contact Reece. 0458 136 391
---
Spare parts for sale - Sydney Area
Listed 8/10/2019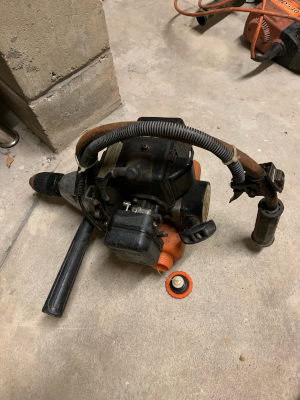 Slab Injectors x 4. One brand new.
Tree Drill - Takata. Will need new fill plug. See picture.
Concert drill - Ramset. Drills slow but effective.
Spill kit brand new.
Hose flow with meter.
All items for sale - $400.
Contact John on 0422918790
---
2013 Holden Colorado Ute - Perth
 Listed 06/08/2019

Includes:
2x 200 litre tanks
Honda motor
2 hose reels 1x 100 metre and 1x 50 metre in near brand new condition
Slide out drawers and Ute toolboxes
2 solo rechargeable back packs
The setup is great and very reliable only selling due to other work commitments and don't have time to use it. Willing to separate spray gear from the Ute for the right price. There are more items available that will be thrown in for the right buyer. Feel free to contact me on 0439474074. Located in Perth
---
Number Plate for Sale - Melbourne Area
Listed 28/04/2019
PESTY1 Number plates for sale, Green and White on Slim Line plates $800 ono
Please email Shane at This email address is being protected from spambots. You need JavaScript enabled to view it.
---
Flir I7 hardly used $1200 contact Rob 0414555589
---