Green Zone Pty Ltd is a privately-owned Australian company supplying innovative pest control management systems for the Australian pest control market.
There are three products in the GREENZONE® range:
• GREENZONE® Termite & Insect Repellent Barrier,
• GREENZONE® Sock Termite Barrier, and
• GREENZONE® Termite Management Film.

The core innovation is the integration of a termite repellent into expansion joint foam which can be applied to all elements of construction that require a termite barrier in order to comply with Australian Standard AS3660 2000, Termite Management, Parts 1 & 3.
50 year product warranty APVMA approved for use
Codemark certified & fully compliant with the Building Code of Australia (BCA)

GREENZONE Termite & Insect Barrier can be used on residential, commercial & industrial sites.
Most common applications of GREENZONE Termite & Insect Barrier are:
Service penetrations
Expansion & Contraction Joints
Infill garages
Infill basements
Tilt-slab infill developments
External perimeters (when pathways are present)
Driveways
Extensions
Greenzone Termite Barrier Film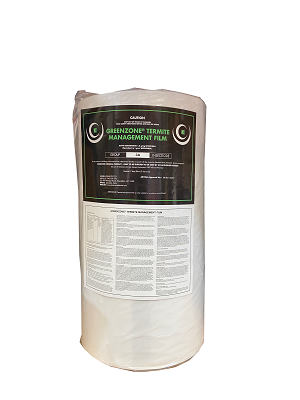 Available in 100, 150, 200 and 300mm widths (50m Rolls)
GREENZONE® Termite Management Film is a physical termite risk management measure that is flexible in nature and is classed as a chemical barrier in a non-soil matrix. It is a once only treatment that is designed to last the economical life of the building.
Greenzone Sock Barrier

Available in 40, 50, 80 and 100mm (diameter)
The Greenzone Sock is the only collar on the market that protects the service penetrations from concrete expansion.
The Greenzone Sock is suitable for use on all types of construction, be it residential, commercial or industrial. It is applied to service penetrations either prior to formwork being laid or afterwards, providing a greater window of opportunity to install the product as opposed to other options that are on the market.
Greenzone Termite Barrier

Available in 100mm x 10mm x 25m (2 pack)