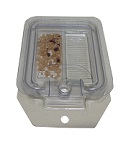 The Dual Ant Bait Station by rega is used for delivering both granular or liquid baits to ants.  It is the smart, easy-to-use, and refillable/disposable way of baiting ants quicker and safer.
The station is cleverly designed so that it can be used horizontally or vertically through the hanging hole. The clear plastic and small size makes for a more aesthetically appealing and practical product when placing. There is an extra tear-off piece to enable the station to feed cockroaches. The ribs on the entry way provide a secure foothold for roaches.

The station is approximately 6.5cm x 9cm and holds approximately 10 grams/millilitres of each type of bait. Each pack contains 50 clear plastic stations.
rega's Dual Ant Bait Station is available from all Garrards branches throughout Australia. Contact your local branch for more information.