AEGIS RP Lockable Rodent Bait Stations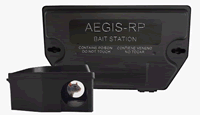 AEGIS-RP Bait Stations are ideal for use where tamper resistant placement of rodenticides is required. It uses the same key as our other Aegis products. Recent AEGIS-RP enhancements include: rounded interior corners where the floors and walls meet, allowing faster and easier cleanout. Also, the lid includes a Spanish precautionary statement. Additional features and benefits include:
Versatile, allows rats or mice to access station to feed on rodenticide.
A design that allows rodents to see their exit before entering, inviting them to enter and feed.
A low profile, permitting flexible mounting in tight locations (vertical or horizontal).
Rotating hinge outlasts break away living hinged bait stations.
An economical choice, control rodent management costs.
Click here to download a copy of the AEGIS RP brochure
---
AEGIS Station & Snap Trap Combo
A new trapping device with a easy-to-set mechanism. The Aegis Trap is a ready-to-use snap trap contained inside an Aegis lockable bait station.
Easy-to-service from the outside with a cable attached to the snap trap.
Aegis Rat Stations were designed specifically to cater to the feeding habits of rats. Studies conclude that rats prefer to feed in tunnels.
Rats are more likely to enter the tunnels of Aegis Rat Stations, which are made of heavy-duty polypropylene.  
Features include:
Keeps Trap away from children and Pets.
Unique patented double-quartered locking barbs make Aegis tamper resistant.
The clear lid, with transparent panel in cover, makes Trap monitoring easy and efficient.
Technicians quickly see snakes and insects that may be hiding in the station
The universal key opens all Aegis products. No need for special tools or multiple keys.
Rotating hinge, won't crack or break when opened in cold weather.
Use indoors or outdoors to provide a full range of rodent environments (commercial, residential, industrial and agricultural).
---
 Generation Rodenticide Range
Generation Blocks contain 0.025g/Kg Difethialone, the newest single feed anticoagulant, and whole food grade grains. Mice, roof rats and Norway rats are readily attracted to this bait.

As well, the Generation range is manufactured with rodent gnawing edges and a centre hole for securing that prevents rodents from translocating blocks to sensitive areas

Difethialone is a second generation anti-coagulant and because one block can kill up to five rodents, the smaller block size allows for more bait placements.

Generation is a single feed rodenticide with superior palatability that has been developed by Liphatech and is available exclusively in Australia from Garrards. 
Generation Loose Blocks
- 15gm Blocks
- 25% more bait placements drives your dollar further
- Clean-out product for rapid knockdown
- Superior efficacy on rodents
- Highly palatable
- No known genetic resistance
- Packed in 7.5Kg containers
Click here
  to download a copy of the Generation Block
Label
Click here
to download a copy of the Generation Block
Combined MSDS
Click here
to download a copy of the Generation Block
Combined Flyer
---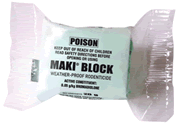 Maki Wrapped Rodenticide Blocks
are individually packaged.  The bait stays fresh for longer and the block is better protected, making it less crumbly.

It is a no-touch concept whereby the technician has no direct contact with the actual block bait.
The sachet creates a physical barrier preventing pests such as slugs, snails and various insects accessing the bait, protecting the integrity of the bait until there is consumption by rodents.

Many pest control technicians have issues with slugs, snails or even cockroaches damaging and eating the baits inside the stations. Most of the time the baits are completely destroyed before rodents even get access to them. Also the droppings resulting from bait consumption by slugs or cockroaches render the stations dirty and this is often not acceptable on audited sites. Technicians spend a lot of time replacing the ineffective baits and cleaning the stations.

Liphatech now offers its customers a ready-to-use solution: Maki Wrapped Rodenticide Blocks.  The new bait will reduce significantly attacks from unwanted pests as well as maximise the effects on rodents. This will result in a number of benefits for PCOs:

- Longer protection: the bait will bevavailable for rodents when they are active.
- No mess: slugs, snails andv cockroaches will not damage the bait because of the physical barrier created by the plastic wrapping. Stations will stay cleaner than with normal unwrapped baits.
- Time-saving: an economical ready-to-use product. No need to re-bagvthe blocks one by one, no need to remove the sachet (rodents will chew through it).
Click here  to download a copy of the Maki Block Flyer
---
Liphatech's Professional Products are available from all Garrards branches.  Please contact your nearest Garrards branch for further information.