The riddle of effective funnel ant control now solved.
Many a mower blade has been blunted, many an ankle rolled, and many a pristine lawn laid waste … all due to Funnel Ants.
Funnel Ants make their homes — commonly marked out by raised, funnel-shaped entry domes — across lawns throughout Australia and are considered a major pest affecting both private domestic and public amenity.
Some innovative work in SE Queensland using BASF's Termidor® for ant control now looks set to severely dent the Funnel Ant's status as one of the hardest-to-control pest ants in Australia. The work carried out by Jay Turner B.Sc., a qualified entomologist who, in a past life, in Melbourne, bred and reared blowfly maggots and cockroaches for the pet food trade. Jay also spent time as a specialist entomology and pest management lecturer at the renowned and highly respected North Melbourne Institute of TAFE (NMIT). Now, however, as a licensed, practising, professional pest manager, Jay has not only shunned Melbourne's bleak climate (he moved himself and his young family north to the sunnier climes of the Queensland Sunshine Coast last year) but has come up with a neat, effective, and highly profitable approach to managing major Funnel Ant infestations in large areas of lawn.
"When I started out in pest management over five years ago, I knew I was pretty well on top of the biology side of things but also that I still had a lot to learn about all the chemicals. And, in this game, you never stop learning," Jay said. In the warmth of coastal Queensland, sounded by "… all the pests you can think of", Jay was in his element as he set out to ride a steep learning curve. Ants and ant management had long been a source of fascination for Jay. "When I learned about Scott Kleinschmidt's work using Termidor on Funnel Ants, I was intrigued and anxious to have a try myself," Jay said. "When I saw that my neighbour had a bit of an infestation … quite an obvious one, in fact … I asked if he'd mind if I gave it a try, at no cost." Jay then looked at the Termidor label and began to wonder. His previous experience with other products told him he must get the chemical to where the pests are active. And with funnel ants, that is deeper down in the soil profile were they feed on scale insects attached to the roots of the grass. But Termidor was a surface treatment, Jay contacted BASF for clarification.
Stewart Paterson , Commercial Manager BASF Pest Control Solutions explained that Termidor was different to other products . Funnel ants regularly travel to the surface to build there distinctive nest entrances, especially after rain. With Termidor being non repellent this allows them to carry out this natural behaviour without realising they have just made a fatal mistake." Jay trusted what the experts had told him and followed the label directions.
"The results were spectacular, first time," he said. Armed with a newfound confidence and realising the extent of Funnel Ant infestations in and around his neighbourhood, as well as further afield across housing estates the length and breadth of the Sunshine Coastal strip, Jay realised he may have found a key to unlock some really serious business. "I got the feeling many homeowners were spending fortunes at their local hardware super barns on 'remedies' which were delivering very ordinary if any results. On the other hand, with Termidor, I was literally holding a solution to their frustrations in my hands." Charged with enthusiasm and buoyed by his early success, Jay drafted up a leaflet targeting homeowners to tell them his and their good news. In essence, Jay's leaflet said: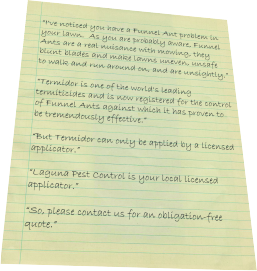 "Then, I attached my leaflet to BASF's Termidor Ant Control brochure, as I've been driving around and I identify lawns with Funnel Ant problems, I've been dropping the brochures in their letter boxes," Jay said. As a result of his campaign, which has only been going for a couple of months, Jay said he's " … been getting quite a few calls" to come out and quote, many of which have turned into paying jobs."When I first started with this (Funnel Ant treatment), I had no idea what to quote, price-wise," Jay said. "So I worked out what the Termidor was costing and what my labour was costing, and came up with a nice easy number … 50 cents per square metre." Jay said most of his early jobs were only small, " … about 300 to 400 square metres, or $150 to $200 worth" "Importantly, nobody seemed to baulk at my price," he said. "
But then I got a call from a guy who asked me to quote on what turned out to be a major problem," Jay said. "His lawn was a mess … full of humps and bumps caused by the ants' funnels. It had also become quite weedy as a result of ant-related bare patches being opened up for weed invasion." "He said his grandkids could no longer play soccer on the lawn because it had become so rough and bumpy. And, he also said he'd been trying to do it himself on a DIY basis for years but hadn't been getting anywhere with it." Jay said there were, in total, thousands of funnels across the lawn.
However, there tended to be more where the soil was lighter … more sandy and loamy … and less where there was more clay and it was more compacted. "The big shock came when I stepped out the area, and did my calculations." It came out at 2,000 square metres! Nobody, I thought, would pay a thousand dollars for an ant job.So, I figured I could afford to cut back a bit and came up with $800. When I left him with the quote, I really wondered if I would ever hear from him again. But, later that evening, he rang me back to ask, 'When can you do it?'"
Jay said he gave his new-found customer a couple of days to mow his lawn before he began the treatment."From start to finish, it took me exactly four hours," Jay said. "A week after I did the job, I went back to do a termite inspection (he must have been impressed with how I handled the lawn job) and checked the lawn.From what I could see the funnels had been rebuilt but nowhere near the original size and I found numerous dead ants at the entrances. At a recent second inspection it looked like I had taken them all out. As there where no new funnels."
"All in all, I've had really fantastic results with Termidor Ant Control." On my neighbour's lawn, where I did my first trial, there were thousands of funnels before I did the job. "And, now, after about six months, there is no sign of any reinfestation … still 100 per cent control, even during summer, when the ants tend to be most active."I am not sure how long the control is meant to last, but from what I have seen, it seems to last a fair while. It probably comes down to the level of pressure from ants in surrounding lawns. "When it comes to value for money Termidor cannot be beaten, both from the customers point of view as well as mine."
Always use products according to the label.