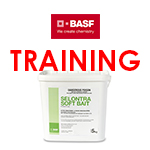 BASF invites you to complete an online course that will equip you with S7 Accreditation, which is required by the WA licencing authority before you can use Selontra rodenticide.
With mouse plagues now heavily affecting the agriculture industry, Selontra is set to become even more sought-after.
Course Details:
Dates: 13th and 15th of April 2021
Time: Choice of 8am or 3pm WST
To secure your spot register your details and nominate your preferred date and time email Garrards
This email address is being protected from spambots. You need JavaScript enabled to view it.
As an added bonus for those who attend the course, with your first purchase of Selontra BASF will refund the cost of your licence upgrade.
We look forward to seeing you there!