FreshWaveIAQ
A large range of FreshWaveIAQ Odour Control products are available from Garrards.
From liquids, gels and sprays, there is an odour control solution for almost every purpose. FreshWaveIAQ is used for rapid, targeted odour control. Use the sprays to instantly bond to and eliminate odour molecules in the air and those that have penetrated or are resting on fabrics, carpets or hard surfaces.  For round-the-clock constant odour elimination day and night, use the gel products.  All are easy to use, the whole range is safe to use to manage indoor air quality. 
Domestic, Commercial and Industrial.
Contact your local branch for further information.
Termidor HE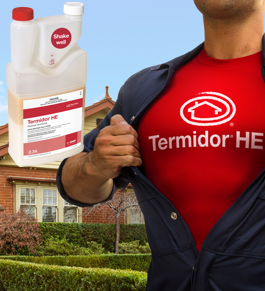 Termidor HE is now available from Garrards.

Take your business to a whole new level of efficiency. Watch the video here.

More efficient application – Termidor HE reduces the need for much of the disruption, digging and drilling typically required with a standard termiticide application. With state of the art advanced polymer technology, it dramatically improves the transport of Termidor HE's active ingredient into the soil on application.

Don't forget about the other great Termidor products which combined can be the most powerful Termite elimination solutions today.
Termidor Foam, Termidor Liquid and Termidor Dry.